Not tired of winning yet…
I'm in this book, so the usual disclaimers about an "unbiased" opinion are in place. However, Barb pretty much nails how I felt about the book, so no harm, no foul, I believe.
Shiny Book Review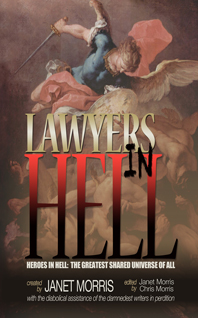 LAWYERS IN HELL is the first installment of the "Heroes in Hell" shared world anthology series, co-created by Janet and Chris Morris, in twenty-five years.  And as such, it's both welcome and relevant, as there are plenty of new authors and characters who have yet to experience Hell and all its forms.
The best stories here are the "framing" stories by Chris and/or Janet Morris, which are, respectively, the introductory "Interview with the Devil" (credited to both), "Tribe of Hell" (credited to Janet) and "Erra and the Seven" (credited to Chris).  These stories help explain what's going on in Hell these days, which is extremely important as the Akkadian God Erra and his seven Sibitti  are rampaging through Hell while conducting an audit.  (I'd call the Sibitti "henchmen," as they do whatever Erra asks without question, except that it's shown in these stories that at least one of the Sibitti
View original post 843 more words